My Artic adventure started in Toronto this spring when I attended the upgrading of the Canadian Standards for freshwater guides. I met Steve Ashton who ran the Artic Adventures Camps for the Inuit Co-op in the North and we discussed who had the highest tides in the world. He maintained that the tides in Ungava Bay were higher than the Bay of Fundy. We talked in general about the fishing and the opportunity to fly fish Artic Char on the fly and I have to say I was impressed at Steve's description and after the meeting returned home. Shortly after I received a call from Steve and the wheels were put in motion for me to go up to Nunavik to flyfish for the Artic Char.
I flew up to Montreal and over nighted in a Hotel for a morning flight to Kuujjuaq. When is the last time you were served a meal in economy and had a hot towel served before it was served? Never right? Well an excellent meal was served with wine complimentary! After arriving we changed planes and flew a twin Otter to a landing strip on the barrens just south of Kangirsuk.
First impressions! Awesome! We were a couple hundred miles above the tree line so the landscape was devoid of trees, you could stand in one place and see for miles with a clarity that was incredible. A mile away the Camp was a spot of green colour on a bay of the River. I felt a sense of being a very small speck of life in the scope of what I was observing.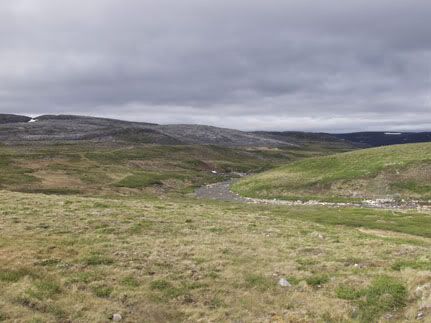 Once arriving at the camp we had lunch and Carol gave us a talk on how the trip would be organized and because of the tides all fishing depended on the tides. You would go out on a high tide and return on a high tide so fishing would be twelve hour sessions. If you wanted to return before that the camp would send an Argo out over the rock strewn flat in front of the camp. It was over a mile from the camp to open water on low tide. Then we were told that the next opportunity to fish was 2 am so get some rest as the window of opportunity was very short as the tide cycle was at its lowest! I went to my cabin and off to bed for a short sleep. An old warrior said sleep before battle is impossible and I guess it is the same about fishing new to me water. A groggy angler went to the main camp for breakfast at 2 am!
The anglers were a diverse group, and from the beginning you could tell it would be a great trip with great guys to fish and break bread with. A few drinks as well! I have never laughed at so many good jokes told by so many good tellers!
The fishing! Incredible! So many fish so little time! The Artic Char is a member of the same family as our Brook Trout and they fought like a sea run Brookie the only difference was they averaged 5 lbs and the largest on this trip 14 lbs. Some did jump but rarely but the best fighters were in the 5-6 lb class. Fast and very strong! I averaged I suspect 40 char a tide but who was counting?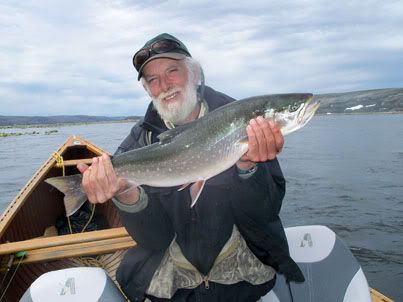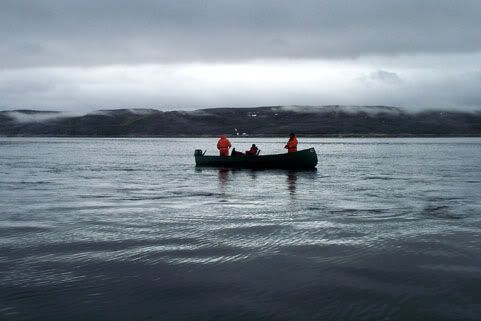 Shore lunches I have believed were always in beautiful places and this place certainly provided a breathtaking place to take a break and have lunch. We had char every day and I never got tired of char on my plate, fresh from the river. The Inuit guides would fillet them and cook them on a Coleman stove, remember no wood! The guides would take a fillet and eat the char raw, the oldest Sushi bar. I found I liked the raw char, fresh from the water.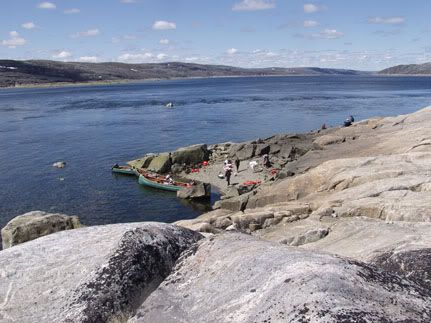 The guides. The guides in any outfitting business are the front line soldiers, they are the ones who are in your company during the angling part of your adventure, which is and should be the biggest percentage of your time spent. All the camps fishing and hunting are owned by the Inuit Co-op and the guides are employed by them and they are all Inuit. They are excellent guides. They share everything with humour and an easy way of making you welcome to their world and your time spent with them in the boat is filled with teasing and banter from both sides. Eric Kudlik the guide I had didn't have any flyfishing experience but with some instruction was able to land a few fish on the fly and was doing well. The emphasis for the guides there is to make you feel welcome, safe, and enjoy your time with them. That they do well and it is a wonderful to experience their world thru their eyes. They shared Beluga whale blubber (Muktu) and the dried meat of the whale. They also dried char in strips and it was very good as well. They were connected to the land and followed traditions from the past.
Eric would make a low whistle like a Peregrine Falcon and then point trying to make me look! He was very good at it! There were Peregrine Falcons on the cliffs so it wasn't hard to make me look!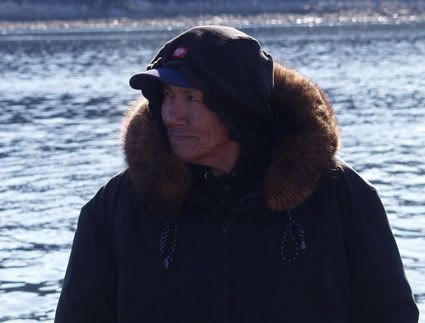 Walking on the land I got a sense of empty landscape. I say that not in a negative way but a beauty that was alien to me and took some adjusting mentally to see the details. Small wildflowers hugging the land, little brooks that rushed thru the rocks coming from snow banks thru alpine meadows. Little birds flitting thru the low scrubs and Artic hare bouncing like kangaroos. The hares were the size of a large racoon but faster! I looked for caribou but none were seen. We saw some when we flew in and a couple of Musk ox was spotted as well from the air but none on my walks.
It started with a few caribou tricking down the hills and gained in numbers until hundreds were moving thru. I couldn't believe how fast they moved and how many there was but I saw a small part of the migration and to see so much life in this expanse was impressive. Not to sound maudlin but it was moving.
I wanted to share with you a small part of my experience in the North and apologize for the length of this post as we do not have an on-line magazine on the new site. My trip exceeded my expectations and they were high at the beginning!!
The highest tides in the World can only be realized by accurate measurement but for me the debate is moot as both the Bay of Fundy and Ungavia Bay have tremendous tides and both are impressive in both water volume and landscape. Let the tourism fight begin! lol