Photo from: http://maritimecanad...01_archive.html
This topic has come up in various threads from time to time. Our Provinces forests have and are being devastated by un-regulated forestry practices. Large swatches of old growth, Acadian forest have been stripped away leaving moonscape like areas of barren devastation.
There can be no positive argument put forth in support of clear cutting. (Except by the Forest Industry) The practice is detrimental to the environment with no positive effects. Soil erosion, sedimentation of waterways, run-off, soil desiccation and loss of animal habitat are just a few of the negative results of this practice.
Not to mention the stripping away of the very "lungs" of the planet.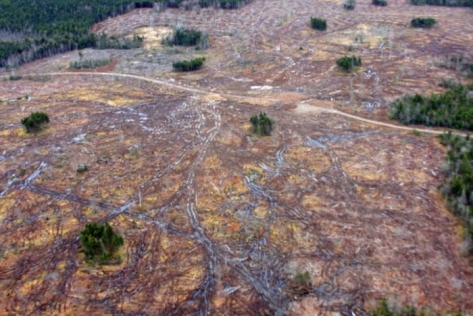 Jaime Simpson - Photo from: http://axisoflogic.c...cle_57923.shtml
How often have you gone looking for a new place to fish, scouting if you would, only to come across one of these areas. Remember the sick feeling in the pit of your gut?
Take a look at the Ecology Action Centre's Gallery of photos from Nova Scotia Clear Cutting: Clear Cutting in Nova Scotia - http://www.clearcutn....ca/gallery.htm . When you get down the bottom of this site, check out the aerial photos link.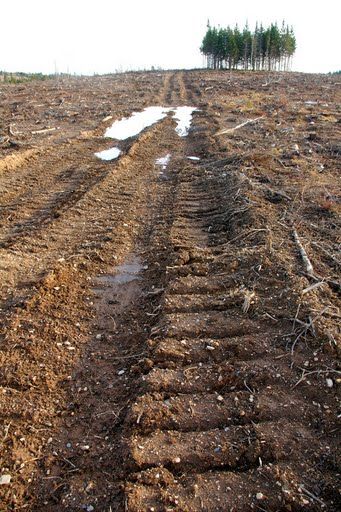 Northern Pulp's operation (pictured here) has been certified as "green" by the Sustainable Forestry Initiative. (Jamie Simpson) Photo from:http://axisoflogic.c...cle_57923.shtml
You've probably came across some disturbing views of our province while searching Google Maps. You know the one. The large area of brown, deforested land surrounding some waterway you were looking to fish.
And despite promises, all that our Government has provided by way of Rules on Whole Tree Harvesting is delays. (See More Delays in Nova Scotia Clear Cutting Rules - http://thechronicleh...arcutting-rules ).
Now, I searched the Natural Resources website and could note find the "promised" new rules on whole tree harvesting. If someone has found them or knows where they are located, please post the information.
However, I figure they are sitting in a pile with the other "promised" stuff from the current Government.
Here is a site that addresses our NDP Governments Forest Policy - http://www.clearcutns.com/
I had read a post by Guest recently in the River Phillip thread and thought that there should be a topic where discussion on Nova Scotia's deforestation and it's effects on our outdoor endeavours could be posted.
Hopefully, this will generate some discussion (or disgust) on the topic of how our Forests are being decimated. Perhaps, members have photos or links that could further help depict the mess our Province has allowed to creep across the landscape.
Terran